As a homeowner, you usually have full responsibility for the upkeep of the rooms. Maintaining a building is labor intensive and often involves much more than cleaning the rooms. After careful consultation, many people choose a cleaning company that offers a professional, customized cleaning service.
This then ensures that the rooms and surfaces to be cleaned are cleaned regularly by professional cleaning staff. But how do you actually recognize a good cleaning company? And what should you pay attention to if you want to hire a cleaning company?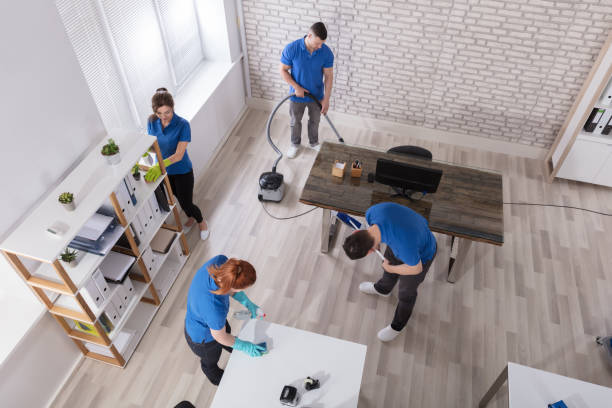 In this post, we list the 5 most important things to consider when considering hiring a professional cleaning company.
1. What kind of cleaning company can you hire?
You have decided that you want to hire a professional cleaning company because you cannot do the cleaning work on your own. That's the first step in the right direction. Now you should consider

what type of cleaning company

suits you best and can meet your needs.
A big cleaning company

A small cleaning service

A sole proprietor (small business owner)
Each provider has advantages and disadvantages. As a rule, larger companies offer a comprehensive service , whereas small companies usually have more personal contact with the cleaner.
If a cleaner is absent (due to illness or vacation), larger companies are usually able to send a replacement immediately . So it depends a bit on what you're looking for and what you're most comfortable with.
It is recommended that you contact the chosen company at least once before signing the contract . A short phone call or a first spontaneous viewing appointment could help you to get a first impression of the company and its range and staff.
Click here to contact the SCS Group Integrated Services cleaning company
2. Where is the cleaning company based?
It doesn't matter whether you hire a small or large cleaning company. The headquarters of the company you have chosen should ideally be as close to your location as possible.
The reason for this is logical. The longer the journey to you, the higher the additional (travel) costs .
3. Are the cleaning staff paid fairly?
When you're on a budget, you're lucky if you can hire affordable cleaners. However, you should be careful with cleaning companies that set the price for the cleaning services low. This could indicate that the cleaning workers are working illegally and/or savings are being made on training and quality .
It is in your interest that workers work in the right conditions . This is the only way your premises will get the continuous cleaning that you want.
And this can only be guaranteed if workers feel comfortable in their work environment and receive the appreciation they deserve. This is the only way to maintain the work ethic .
It therefore requires a certain amount of money that guarantees you that the plastering work is carried out correctly. In the worst case, you can expect inadequate cleaning services from cleaning companies that advertise extremely inexpensive offers.
A cleaning company that pays its employees correctly guarantees you better performance.
4.
How expensive is the cleaning force of the cleaning company for you?
Accept a cheap offer and you will most likely only get quick work without thoroughness . However, this does not mean that expensive cleaning automatically leads to a satisfactory result. What counts is the thoroughness of the cleaning carried out.
Larger cleaning companies with many years of experience in the cleaning industry usually stand for high quality cleaning work. They often have a large team of trained cleaners who only work with the best and latest cleaning products and equipment.
Smaller companies often have greater capacity to cater to your needs and provide you with personalized and excellent service . The cost of a professional cleaning service from a small business is not necessarily higher than services from larger businesses.
So that you do not expect any unpleasant financial surprises, you should choose a cleaning company that always breaks down all services transparently in the invoice so that you only pay for what is actually listed.
5.
How reliable is availability and communication?
If a cleaner is absent, or if you need to postpone a scheduled cleaning, it is important that the cleaning company is contacted as soon as possible.
A good cleaning company gives you a direct contact person who can usually be reached during office hours. Reliable accessibility is very important so that problems can be solved quickly and efficiently.
If you are constantly being forwarded or only the answering machine picks up, it doesn't look professional.
Even if you have the feeling that the responsible contact person does not take care of your concerns, the cleaning company is not recommended. You can clarify all these things during the first phone call and before the contract is signed.
A quick customer satisfaction check might also come in handy by reading related reviews. This way you can get a better picture of the company.
Read now the customer ratings for the service of the professional cleaning company SCS Group Integrated Services.
Excellent service is worth nothing without a satisfactory cleaning result
Of course, no matter how reliable the professional cleaning company may be. What counts in the end is the cleaning result. The cleaning work should always be carried out correctly by competent specialists who are motivated to get to work.
Are certain activities neglected or not carried out correctly? Then the company has to take the necessary steps and offer a solution.
Now that you know what to look out for before hiring a cleaning company, your search for the right cleaning company will be even easier.